Mich'Art Pottery Studio and Gallery is a place for creativity!

If you have ever dreamed of finding the special gift for you or your loved ones, then Mich'Art Pottery Studio and Gallery is the place.
Have you considered buying a Gift Certificate?
Contact us for details.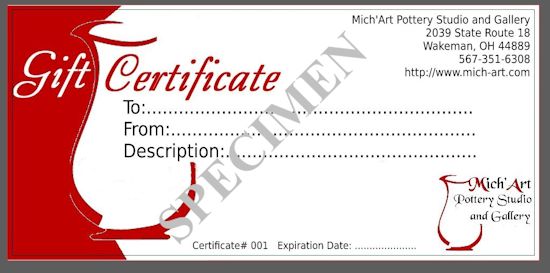 Where I'm At...
Announcement: Covid-19 Status
NOTE: Because of Covid, I am not giving any classes for now.
Visiting the Studio: We are fully vaccinated. No mask required. Your choice.
Online shopping is now available. Visit the Store to see all what is available from our Gallery.
I will be at the Mulberry Creek Herb Farm Fair on June 26th-27th.
What I am doing...
2021-04-24
Online store is now LIVE !
We are preparing for Mulberry Creek Herb Farm fair on June 25th-27th.