Mich'Art Pottery Studio and Gallery is a place for creativity!

If you have ever dreamed of finding the special gift for you or your loved ones, then Mich'Art Pottery Studio and Gallery is the place.
Have you considered buying a Gift Certificate?
Contact us for details.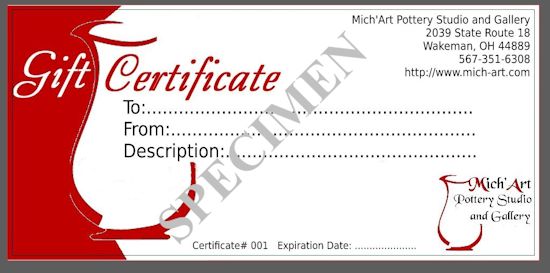 Where I'm At...
Announcement: Covid-19 Status
We are open, currently available inventory is shown in the "Gallery" section under "Pottery," "Available." Call for prices and pick up. We also can ship.
NOTE: Because of Covid, I am not giving any classes for now.
What I am doing...
2021-01-06
New Year....New Sign. I now have a new sign at the street !
I am getting ready to put Valentine's decoration in the studio. Come on in to see and get the special gift for your loved ones.
Wire wrapped Jewelry and ornaments.
New to the studio are wire wrapped stone pendants.