Mich'Art Pottery Studio and Gallery is a place for creativity!

If you have ever dreamed of finding the special gift for you or your loved ones, then Mich'Art Pottery Studio and Gallery is the place.
Have you considered buying a Gift Certificate?
Contact us for details.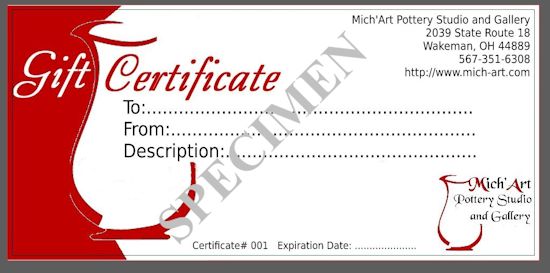 Where I'm At...
Website & Menu Being Updated 09:57 2020-06-07
Announcement: Covid-19 Status
We are open, currently available inventory is shown in the "Gallery" section under "Pottery," "Available."
At this time we are unable to allow people into the store as we are in the middle of a project to put down a slate floor. However we will gladly retrieve items you wish to purchase and have them ready for pickup.
Please call for pricing and appointments for pickup.
We Thank You for considering us!
What I am doing...
2020-06-24

Cleaning slates for my new floor, almost done.
Making greeting cards in between tiles.